Description

Key Benefits
Gentle on Skin
This gentle foaming cleanser has been specifically designed for redness-prone skin. Infused with calming, strengthening and conditioning actives, it helps to soothe sensitivity and improve skin health.
Anti-inflammatory Benefits
Organic sweet orange oil gives the cleanser a light citrus scent, while also providing soothing and anti-inflammatory benefits to the skin.
pH Balanced
Calmwise Soothing Cleanser is pH balanced to care even for the most sensitive skins and is free from potentially irritating artificial fragrances, soaps and sulphates.
Perfect Product Pair
Lipid Balance Cleansing Oil and Calmwise Soothing Cleanser make for the perfect double cleanse partners to ensure you get the most gentle yet effective sunscreen and makeup removal in the evening.
Carefully crafted to care for redness-prone skin, Calmwise Soothing Cleanser is pH balanced to ensure you receive the gentlest cleanse. The deeply restorative formula helps to support the skin's natural defences against environmental stressors.
Teprenone is a patented active that prolongs the health of skin cells, the innovative formula quickly reduces redness while boosting overall skin health.
Vitamin K2 works to strengthen vein walls; diffusing redness visible on the skin's surface. Meanwhile, the cleanser is fortified with natural chlorophyll to aid the skin's defences and enhance radiance.
Chlorophyll is used by plants as a natural source of energy and works within the skin to boost skin cell regeneration and detoxify. Finally, soothing sweet orange oil calms irritation to leave red, sensitive skin even-toned and soft to the touch.
Every morning and evening, pump Calmwise Soothing Cleanser into the palm of the hand and massage into moistened face and neck
Gently remove foam by splashing with water and pat face dry.
Patch testing prior to use is advised. Refer to medik8.co/patch for an in-depth guide to patch testing.
Ingredients
Teprenone
A patented anti-redness active that helps to prolong the life of skin cells; enhancing the skin's protective barrier and reducing sensitivity.
Chlorophyll
A natural green pigment that acts as a source of energy for plants. Naturally cleansing with powerful antioxidant properties, it detoxifies skin while gently boosting the skin's renewal cycle for a healthy lit-from-within glow.
Vitamin K2
A powerful nutrient that strengthens capillary walls to help diffuse redness and sensitivity.
​Organic Sweet Orange Oil
Naturally fragrant, organic sweet orange oil softens and eases irritation for a soothed complexion.

FULL INGREDIENTS
NO ARTIFICIAL FRAGRANCE
PARABEN FREE
VEGAN FRIENDLY
ZIPPER DONATION
NO SYNTHETIC COLOURS
NO PHTHALATES
ALCOHOL FREE
CRUELTY FREE
Used in Professional Treatments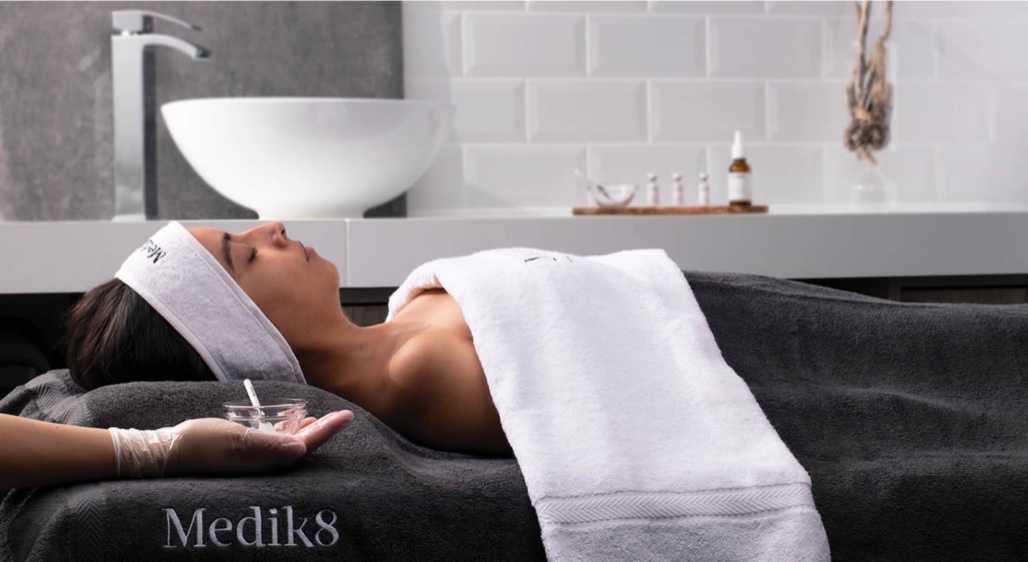 Boost the results of Calmwise Colour Correct
Visit a Medik8 specialist for a detailed skin consultation and experience one of our soothing Redness treatments.
Calming Facial
A professional treatment to soothe and comfort sensitised, irritated skin. The unique application of the calming bio-cellulose mask enriched with zinc and hyaluronic acid caresses the face to restore comfort levels. Feelings of tightness and inflammation disappear revealing visibly calm, even and radiant skin.
Sensitive PHA Professional Skin Peel
A new addition, this peel is for extremely sensitive or redness-prone skin to visibly smooth skin texture and help promote a stronger skin barrier.
Science Behind It
CHLOROPHYLL
Green is the colour of life, and the colour of chlorophyll. The naturally occurring ingredient absorbs sunlight and converts it into food and energy in plants. Creating the distinctive green colour of Calmwise Soothing Cleanser, chlorophyll works to restore skin balance and boost its natural regeneration cycle, leaving the complexion glowing and healthy. Not only that, but chlorophyll has been found to speed up healing while detoxifying the skin by binding itself to potential irritants so they can be easily cleansed away. Its exceptional antioxidant powers and anti-inflammatory action leave the skin calmed and protected from free radical damage.