Description
Key Benefits
Double Cleanse Hero
Soft as cashmere, Lipid Balance Cleansing Oil melts seamlessly into skin, transforming upon contact with water into a milky emulsion that rinses the day away for a beautifully supple complexion. The perfect first step of a double cleanse, for heavy or waterproof makeup removal.
Moisture Balancing
Rich in linoleic acid (vitamin F), the safflower oil based cleanser feeds the natural skin barrier to leave the skin thoroughly cleansed, without feeling tight or dry.
Urban Cleanse
Moringa extract is our natural cleansing agent, drawing dirt and impurities to itself so they can be easily washed away. Perfect for cleansing skin from pollution particles at the end of the day.
Perfect Product Pair
Lipid Balance Cleansing Oil and Surface Radiance Cleanse make for the perfect double cleanse partners to make sure you get the freshest, brightest looking skin in the evening.
---
The upper layers of the skin are made up of skin cells surrounded by a sea of oil-soluble lipids. Made up of fatty acids, cholesterol and ceramides, these lipids help to keep the skin's essential barrier from letting out water and letting in irritants.
Linoleic acid, or omega-6, is an essential fatty acid which cannot be synthesised by the skin, but plays a very important role in maintaining the skin's barrier. Often dry or acne-prone skin types are deficient in linoleic acid levels in the skin. Lipid-Balance Cleansing Oil contains an optimised blend of fatty acids with an excess of linoleic acid to help rebalance the skin for a nourished and healthy-looking complexion.
Safflower oil is made up of more than 70% omega-6, the formula also has a shot of extra linoleic acid to rebalance the skin.
Vitamin E neutralises damaging free radicals which can accumulate throughout the day, while moringa oil gently whisks away harmful pollution particles. Oils dissolve in oil, so even stubborn oil-based waterproof make-up doesn't stand a chance against this effortless cleanser.

How To Use

Gently massage Lipid-Balance Cleansing Oil into dry skin. Add warm water to emulsify into a milk and continue to massage.
Rinse thoroughly and pat face dry.
Patch testing prior to use is advised. Refer to medik8.co/patch for an in-depth guide to patch testing.
Safflower Oil
Cold pressed and made up for more than 70% omega-6, safflower oil is rich in nourishing fatty acids and vitamin E.
Omega-6
Also known as linoleic acid, an essential fatty acid which your body cannot synthesise on its own. Omega-6 helps to rebalance the skin's lipid levels to encourage a healthy complexion.
​Vitamin E
Essential in our bodies for cell protection, vitamin E is an oil-soluble antioxidant that can protect the lipid parts of the cell from free radical attack.
​Moringa Extract
A natural cleanser and next-generation antioxidant, moringa extract draws dirt, impurities and pollution to itself so they can be easily cleansed away.
NO ARTIFICIAL FRAGRANCE
PARABEN FREE
VEGAN FRIENDLY
ZIPPER DONATION
NO SYNTHETIC COLOURS
NO PHTHALATES
ALCOHOL FREE
CRUELTY FREE
Used in Professional Treatments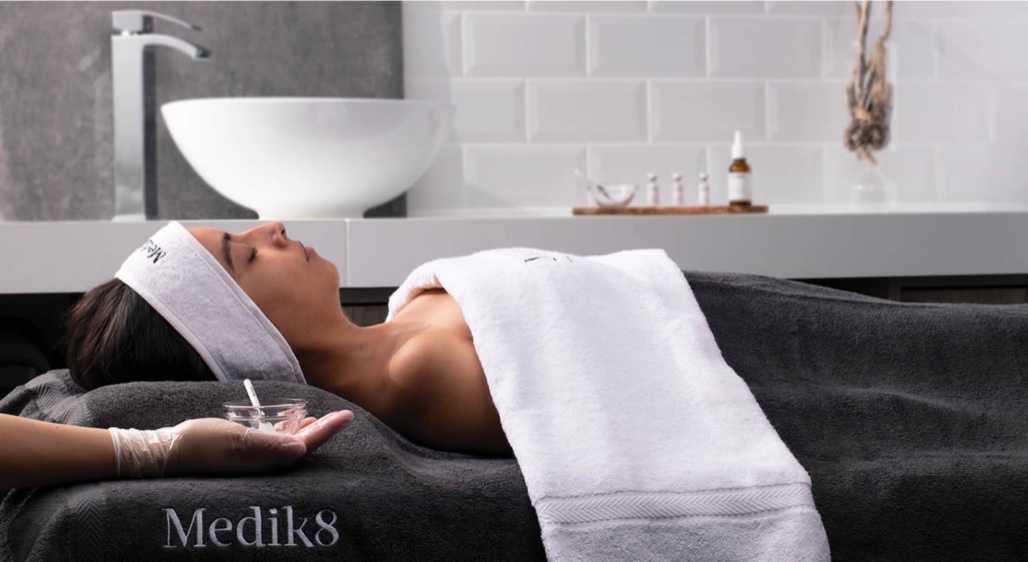 Boost the results of Lipid-Balance Cleansing Oil
Visit a Medik8 specialist for a detailed skin consultation and experience one of our relaxing anti-ageing facial treatments.
Deep Hydration Facial
A multi-level hydration treatment delivering intense nourishment for dry, thirsty skin. The nutrient-rich mask floods skin with moisture to help plump dehydration lines and revive suppleness. Skin is left soft to the touch, intensively hydrated and healthy-looking.
Universal AHA Professional Skin Peel
Suitable for everyone and any skin concern, this peel visibly brightens, smoothes, decongests and revitalises the skin. Ideal for a first time peel or to maintain results from other peels.
The Science Behind
A natural cleanser, moringa seeds have been used since ancient egyptian times to purify water for safe drinking. Crushed moringa seeds are known as a coagulant – they act as a magnet to draw particles of dirt and pollution to itself so that they can be easily filtered out. On the skin, moringa can cluster together pollution particles so they are effortlessly washed off the face, for a purified and detoxified complexion.